Properties Detail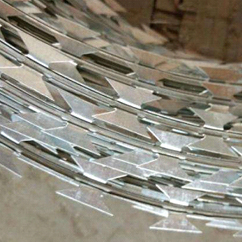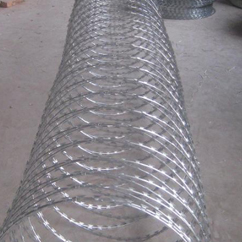 China Manufacturer of Barbed Wire and Razor Wire: Your Choice for Safety Fences and Security Fences Work with Qunkun to find your ideal supplier of razor wire in listed various styles. The blade lengths and profiles for razor wire are optional.
Razor wire, as upgraded security products of traditional barbed wire, has enhanced level of security and safety. It can be used individually along the wall or the top of the buildings to form a certain obstacles against intruders. It is also popularly used along the top of the metal fences offering strengthened barriers with sharp blades and barbs.
Razor wire is supplied in the forms of coil wire, straight line razor ribbons, concertina and welded flat razor wire mesh sheet. The blade profile for razor wire varies in a different sizes and styles. As a professional manufacturer, we have experienced team in this field. Besides supplying some common specifications provided in this site, we can also custom products according to your specific requirements.
Our products are mainly three categories: Barbed Wire and Razor Wire of various types and specifications; machines for making barbed wire and razor wire; galvanized wire and other wire products.
We believe in long-term cooperation and effective communication. For specific information, you may click on our related links in this site. For any inquiries, leave a message for us.
Blade barbed wire is a new type of protective net. It is widely used in industrial and mining enterprises, garden apartments,border posts, military fields, prisons, detention centers, government offices, Buildings and other national security facilities.
Razor Wire
Specification
| | | | | |
| --- | --- | --- | --- | --- |
| Outside Diameter | No. of Loops | Standard Length per Coil | Type | Notes |
| 450mm | 33 | 8M | CBT-65 | Single coil |
| 500mm | 41 | 10M | CBT-65 | Single coil |
| 700mm | 41 | 10M | CBT-65 | Single coil |
| 960mm | 53 | 13M | CBT-65 | Single coil |
| 500mm | 102 | 16M | BTO-10.15.22 | Cross type |
| 600mm | 86 | 14m | BTO-10.15.22 | Cross type |
| 700mm | 72 | 12m | BTO-10.15.22 | Cross type |
| 800mm | 64 | 10m | BTO-10.15.22 | Cross type |
| 960mm | 52 | 9m | BTO-10.15.22 | Cross type |
Razor wire is a kind of modern security fencing materials fabricated with razor-sharp steel blade and high-tensile wire. Barbed Tape can be installed to achieve the result of frightening and stopping to the aggressive perimeter intruders, with piecing and cutting razor blades mounted at the top of the wall, also the special designs making climbing and touching extremely difficult.The wire and strip are galvanized to prevent corrosion. Razor wire is a type of steel fencing wire constructed with sharp edges or points arranged at intervals along the strands. It is used to construct inexpensive fences and is used atop wall surrounding secured property and It has the aracteristic of corrosion resisting and oxidation resisting.widely used by many countries in military field, prisons, detention houses, government buildings and other national security facilities.
Razor Type: BTO-10, BTO-12, BTO-15, BTO-22, BTO-30, CBT-25, CBT-60, CBT-65.
Material of razor blade: hot dipped galvanized, stainless steel 304, 202
Material of wire: electrical wire, hot dipped galvanized wireter of razor barbed wire coil or concertina razor wire coil: 400mm, 450mm, 500mm,600mm, 1000mm as you required.