What is the Airport Fence? What are the advantages of airport fences?
Jun 14, 2018
The airport fence mesh is also called "Y-type safety defense net", which is composed of V-shaped support columns, reinforced welding nets, security anti-theft connectors and hot-dip galvanized blade thorn cages with high strength and safety defensive rating. In recent years, it has been widely used in airports, military bases and other high-security places. Note: If the barbed wire and blade barbed wire are installed on the top of the airport fence mesh, the safety protection performance will be greatly enhanced. The use of electroplating, hot-dip coating, plastic spray, impregnation and other forms of anti-corrosion, has a good anti-aging, anti-sun, weather and other characteristics. Its products are beautifully shaped and varied in color, which not only serves as a fence, but also serves as a beautifying effect. Due to its high safety and ability to prevent climbing, the mesh connection method uses special SBS fasteners to effectively prevent man-made destructive dismantling and four-fold lateral reinforcement to increase the strength of the mesh surface.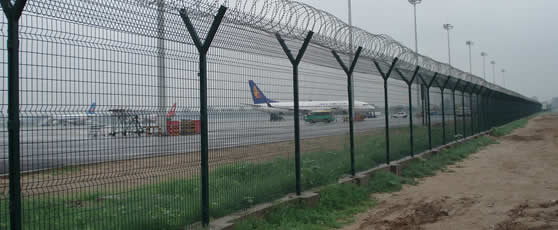 Airport fencing Material: High quality low carbon steel wire.
Airport fencing Specifications: 5.0mm high-strength low-carbon steel wire welding.
Airport fencing mesh: 50mmX100mm, 50mmX200mm.
Airport fencing with V-shaped ribs can greatly increase the impact resistance of the fence.
The column is a 60X60 rectangular steel with a V-shaped frame welded to the top. Or use 70mmX100mm hanging connection post. All products are hot-dip galvanized after the use of high-quality polyester powder electrostatic spraying, using the international popular RAL color.
Airport fencing Weaving method: Prepared by welding.
Airport fencing Surface treatment: electroplating, hot-dip plating, spray-coating, dipping.
Airport guardrail advantages:
1. It is beautiful, practical, convenient to transport and install.
2. To adapt to the topography at the time of installation, the connection position with the column can be adjusted up and down with the ground;
3. The installation of four folding ribs in the transverse direction of the airport fences will increase the strength and aesthetics of the mesh significantly while increasing the overall cost, and is currently one of the most popular at home and abroad.
airport fence mesh Main use: airport closure, private area, military heavy land, site area fence, development area use of isolation network.
Production process: pre-wire, cutting, pre-bending, welding, inspection, frame, destructive experiment, beautification (PE, PVC, hot dip), packaging, storage.
Airport guardrail manufacturers, to provide you with the latest airport fence mesh prices, airport fence wholesale, airport guardrail quotes, airport guardrail stadium fence pictures, airport fence specifications,
上一篇:Airport Fence Advantages-airport perimeter fence requirements
下一篇:没有了