In Daily Life,We Normally Ignore The Care And Protection of Our Hands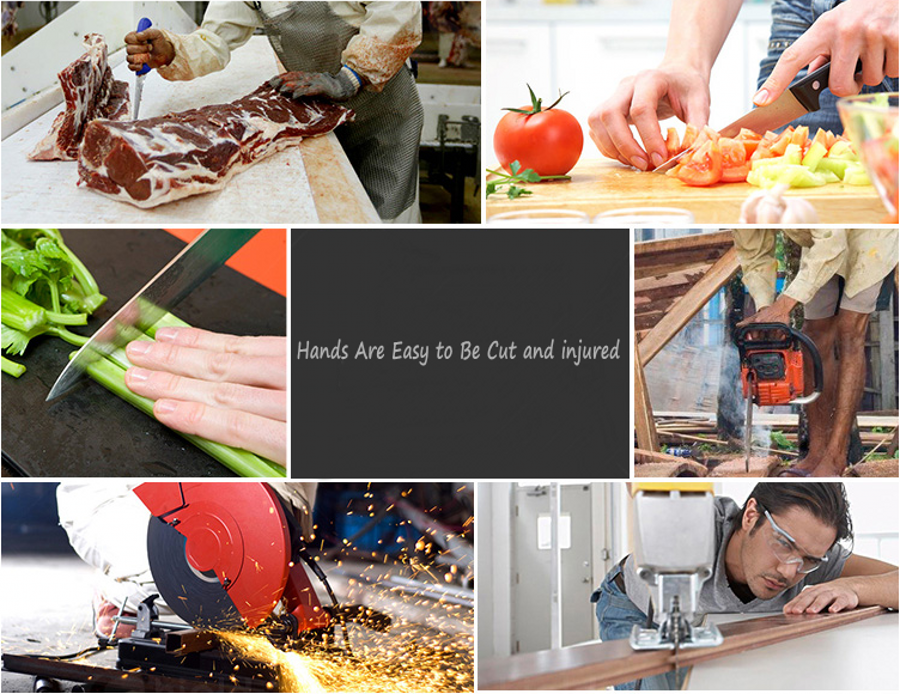 Zhong He Hand Safe Ring Mesh Gloves,To Give More Care For Our Hands
| | | |
| --- | --- | --- |
| Meat Processing | Glass Manufacture | Wood Carving |
| | | |
Zhonghe---- We only offer professional high quality ring mesh cut resistant gloves
| | | |
| --- | --- | --- |
| Leather Working | Food Making | Clothing Making |
| | | |

There are several different kinds materials can be used for the cut resistant gloves. The cost also a wide range for the cost. But if hope to persue an ultimate protection to your hands. The core factor is the materials! We only use high quality stainless steel wire 304 as material.
Materials: 100% new stainless steel wire 304
Tensile Strength: σb(MPA)≥520
Offset Yield Strength: σ0.2(MPA)≥205
Elogation: δ5(%)≥40


Reduction of Cross Section:

ψ(%)≥60




Hardness: ≤187HB;≤90HRB;≤200HV;




Density: (20°C,kg/dm2):

7.93




Melting Point: (°C): 1398-1454




Specific Heat (0-100°C, KJ·kg-1k-1):0.50




Heat Conductivity (W·m-1·K-1):

(100°C)16.3,(500°C)21.5




Expansion Coefficient (10-6·K-1):

(0-100°C)17.2,(0-500°C)18.4




Electrical Resistivity (20°C,10-6

Ω

·m):

0.73




Longitudinal Modulus(20°C, KN·MM2):

193
| | | |
| --- | --- | --- |
| SS304 wire, corrision resistant | 200N drawing force, ultimate protection | FDA approved, can contact food directly |
| | | |
Zhonghe was focusing on the ring mesh gloves since 3 years ago. For the passed 3 years, we devote ourselves to improve our technology, bring advanced equipment and train our workers. We only offer professional cut resistant gloves.
| | | |
| --- | --- | --- |
| | | |
| Each Ring Was Welded By Heart | Human Engineering, Comfortable | Hook Strap, Convenient and Healthy |

This type ring mesh gloves were normally used for butchers, slaughterhouse workder and housework wives. So what consumer worry about is: is this ring mesh gloves can contact food directly? We gladly to say that our ring mesh gloves has been FDA approved and they are safe enough for food or meat processing. Please use the gloves without guilt.

From shape, there maybe dosen't much diffence between our ring mesh gloves and other company gloves. But we can say details determine high quality.
| | | |
| --- | --- | --- |
| | | |
| Inforced Welding Between Fingers, More Strong | Exquisite workmanship, Comfortable &Smooth | Three fingers, Good Protecton, More economical |

Slaughter worker said:
The gloves is very safe for hand. For several times, my fingers almost were cut but thanks to the gloves, my hands were out of the injury.
Cutting and sewing cutter said:
It is very easy to get abstracted after long working and then fingers maybe injured. I have used many type gloves,but this glove not only the effect but also the quality is unbeatable.
Fishing Industry Said:
Before, we wore normal gloves and hands are easy to be injured but after wear the ring mesh gloves, hands are never be damaged again!
The Housewife Said:
The Gloves are amazing!! I bought these gloves because I do a fair amount of cook and we use meat daily. After getting slices and cuts frequently , I decided to invest in this ring mesh gloves for hand protection. They are really quality gloves. They are easy to put on and remove. I highly recommend them!
As to our Three Finger Wrist Glove With Hook Strap, there are six different size to meet different hand size need:
Strap Type

Specification

XXS

XS

S

M

L

XL

Textile

Length(mm)

210

225

235

245

255

260

B.W.(g)

115

130

135

150

160

175

Hook

Length(mm)

215

230

240

250

260

265

B.W.(g)

350

370

380

405

415

440

In order to buy a applicable ring mesh three wris cut resistant glvoes, please measure your hands before buy the gloves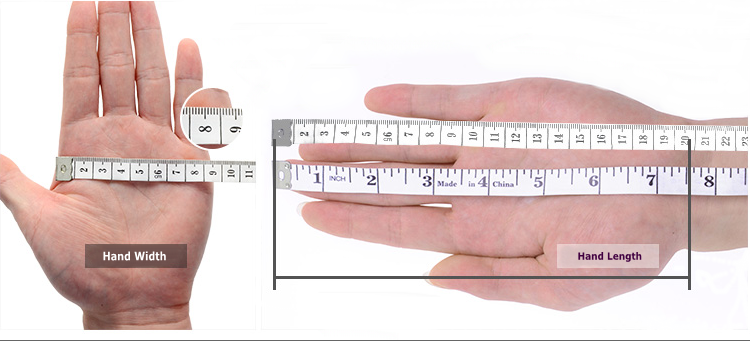 If it is not convenient to measure your hand or don't have measure tool on hand, the gloves also can be choosen on base of height and weight. But this is not exactly right, only for reference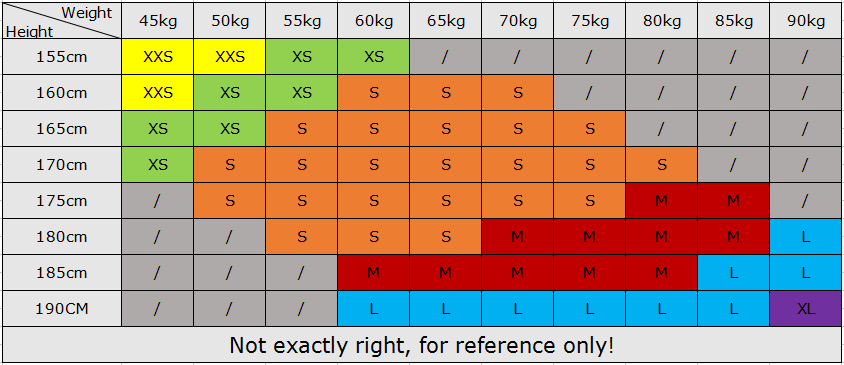 Widely Applications of Three Finger Wrist Glove With Textile strap:
1.Used for slaughter houses,
2.Used for fish and shellfish processing,
3.Poultry processing,
4.Large-scale public canteens,
5.Supermarkets,
6.Plastic,leather processing,
7.Textile,
8.Tailoring and paper industry,
9.Wood processing,
10.Glass processing,
11.Laboratory containment,
12.Security,police,public security and other fields.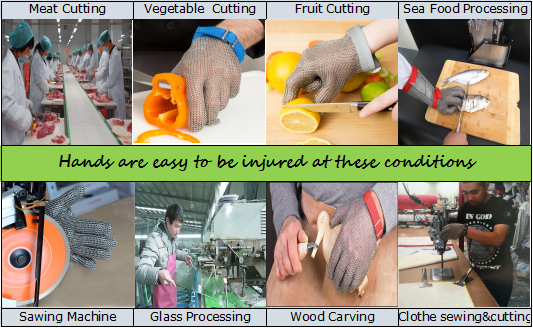 If you were working in above mentioned conditions, it is really worth to buy at least one of our ring mesh gloves.
For ring mesh cut resistant gloves, normally 1 piece glove will accompany with 1 piece tighter.
1, 1 piece gloves per polybag, then 10pcs in bigger polybag, and then 50 pieces per carton.
2, 1 piece gloves per polybag, then 1 bag per inner box, and then 50 inner boxes per carton.