Wedge Wire Screen
Sep 17, 2019
Steellong company mainly produces stainless steel sieve plate, wedge wire screen, hydraulic screen (curved screen, hydraulic screen, gravity song sieve) and other wedge wire welding products, mainly used in the filtration industry, solid-liquid separation, solid separation Link, with a smooth surface smooth, wide gap, good water permeability, easy to plug, high screening efficiency, long service life advantages. Whether in the filter accuracy, or screening efficiency, have reached the international advanced level, is the best alternative to foreign products, save you a lot of money, reduce production costs. Filtration accuracy of 50 microns, 75 microns, 100 microns, 200 microns, accuracy error within 10 microns. Specifications for the 585X1600,710X1600,825X1600 and many other specifications. Material is generally 304,316L or specify the metal material. I can according to customer needs to design a different degree of curvature, porosity, filtration, to ensure that meet customer requirements.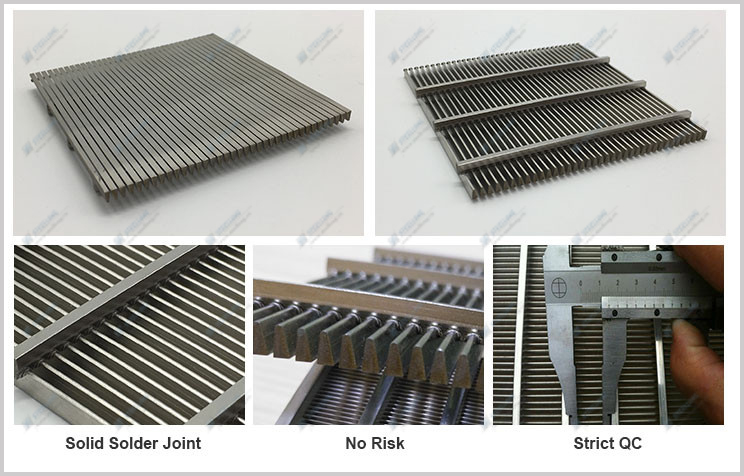 The wedge wire sieve plate is a kind of high efficiency sieve that relies on pressure to screen the wet material. It consists of a sieve, a sieve box, a feed unit and an outlet. The screen surface is the key component of the pressure song screen. It is made of stainless steel wedge wire, the wet material is sprayed from the nozzle mouth at 0.2-0.4Mpa pressure, the feed injection velocity produces tangential force, forming a knife edge at the edge of the wedge wire, scraping the material into thin A layer of water and fine materials evenly dispersed, sieve material from the slag discharge, sieve under the material into the pulp mouth.
The operating pressure must be controlled between 0.2 ~ 0.4Mpa, the pressure is high, the screening efficiency is also high, the production capacity is also large, the pressure is low, the screening efficiency is low, the production capacity is also low, the screening material dry matter content is 17% The left and right slag is the first sieve to separate the starchy milk.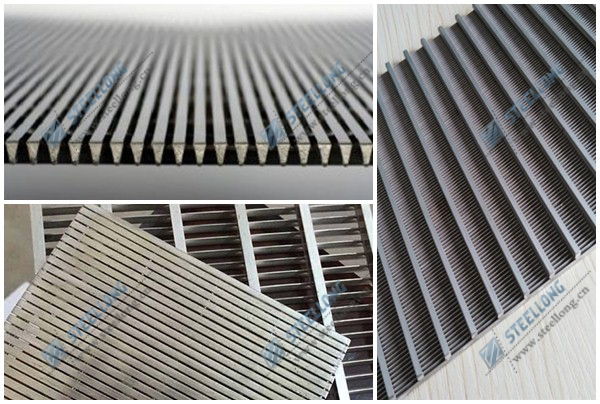 Selection of high-quality stainless steel (302,304,304 L, 316,316 L and other materials wedge wire), the advanced processing technology from welding, strict process to ensure product quality, it is different from the general stainless steel wire braid, which is characterized by anti- Strong, good elasticity, compression, anti-vibration, corrosion resistance, easy to plug, not close together, not affected by temperature, long life, safe and reliable, low overall cost advantages. The sieve is strictly uniform, the hole rate is high, the screening and filtering process is effective, and the sieve can be arbitrarily selected, and can be processed into various kinds of rigid screening filter.
Wedge Wire Screen Structural principle: stainless steel sieve plate is used for screening, filtration of the metal mesh structure elements, the specific strong strength, stiffness and load capacity, can be made into a variety of shapes of rigid screening filter.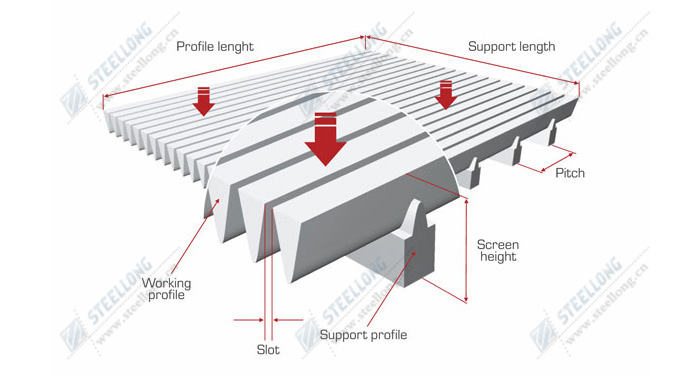 Wedge Wire Screen Applications: Widely used and petroleum, chemical, pharmaceutical, water treatment, environmental protection, food and light industry, paper and other industries.

Wedge Wire Screen Features:
1, Not easy to block, V-shaped wire to form a wedge-shaped gap, effectively prevent clogging.
2, High-precision sieve, automatic welding to ensure sieve accuracy.
3, Easy to clean, the surface can be used scraper and high pressure backflush method to clear.
4, Pressure loss is small, high mechanical properties.
5, Long life, low maintenance costs.
6, High strength, hardness can reach 2000 Newton / mm² HV458-600.
Material: 304,304 L, 321,316 L, 2205,2507 904L, Hastelloy, titanium and other special materials.
上一篇:没有了