MK5101-Five Finger Wrist Ring Mesh Glove With Textie Strap
1. Protect you from working accidents that often occur when cut or stab with a knife.
2. Flexible textile strap, adapts to all wrist sizes to ensure comfort
3. Color coded strap defines the size of the glove
4. 4 in 1 intertwined design will allow mobility of the hand while working
5. The steel gloves strictly meet the standard of European directive EN 1082-1:1996
Cleaning instruction: washed in hot soapy water (50℃) and rinsed in water at a minimum temperature of 82℃To disinfect them
For Cut Resistant Working,Please Choose Right Cut Resistant Gloves, Attention to Safety
Slaughter worker said:

The gloves is very safe for hand. For several times, my fingers almost were
cut but thanks to the gloves, my hands
were out of the injury.

Cutting and sewing cutter said:

It is very easy to get abstracted after long working and then fingers maybe injured. I have used many type gloves,but this glove not only the effect but also the quality is unbeatable.

Fishing Industry Said:

Before, we wore normal gloves and hands are easy to be injured but after wear the ring mesh gloves, hands are never be damaged again!

The Housewife Said:
The Gloves are amazing!! I bought these
gloves because I do a fair amount of cook
and we use meat daily. After getting slices
and cuts frequently , i decided to invest in
this ring mesh gloves for hand protection.
They are really quality gloves. They are
easy to put on and remove. I highly
recommend them!

Stainless Steel Wire 304 ,FDA Certificate, Multiple Performance
| | | |
| --- | --- | --- |
| | | |
| 100% SS Wire 304, Anti-Corrosion | 200N Drawing Force, Cutting Resistant | CE, FDA Approved, Food Grade |
More than 5000 inpidural welded rings, each rings was staggered with contiguous 4 rings.
Ring wire diameter: 0.53mm, Ring inner diameter: 2.75mm
Designed on Base of Ergonomic Human Engineering
Wearing Is More Comfortable and Convenient, Hand is not easy to Get Tired
six different sizes for different hand siz

e

light and flexible, can grab small things

two-sided buckle, patent approved



MK5101-Five Finger Wrist Glove With Textie Strap specification
Strap Type
Specification
XXS
XS
S
M
L
XL



Textile



Length(mm)
210
225
235
245
255
260
Width(mm)
105
110
120
125
130
135
B.W.(g)
145
165
180
205
210
235



Hook



Length(mm)
215
230
240
250
260
265
Width(mm)
105
110
120
125
130
135
B.W.(g)
145
165
175
200
210
235
In order to help you to buy the right size, we advice you to measure your hands firstly. The way is as follows: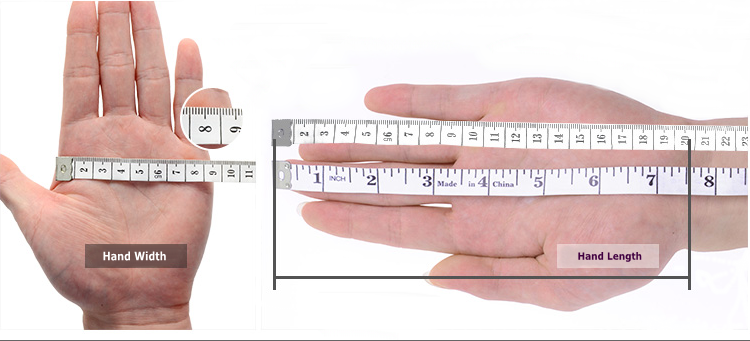 If cannot measure your hands, then the cut resistant gloves also can be choosen on base of your height and weight. But this way
is not exactly right, only take for reference.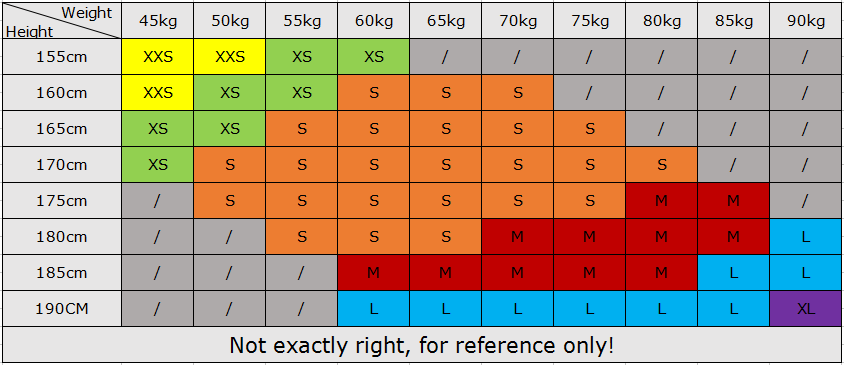 There is a wide application of our 5101-Five Finger Wrist Glove With Textie Strap:
1.Used for slaughter houses,
2.Used for fish and shellfish processing,
3.Poultry processing,
4.Large-scale public canteens,
5.Supermarkets,
6.Plastic,leather processing,
7.Textile,
8.Tailoring and paper industry,
9.Wood processing,
10.Glass processing,
11.Laboratory containment,
12.Security,police,public security and other fields.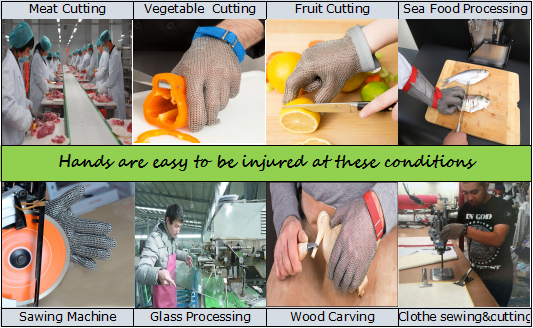 For ring mesh cut resistant gloves, normally 1 piece glove will accompany with 1 piece tighter.
1, 1 piece gloves per polybag, then 10pcs in bigger polybag, and then 50 pieces per carton.
2, 1 piece gloves per polybag, then 1 bag per inner box, and then 50 inner boxes per carton.